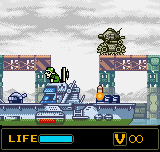 The Weapons Port Boss is a Rebel ship found in Metal Slug: 1st Mission. It is found in Mission 14 (Weapons Port).
Boss Synopsis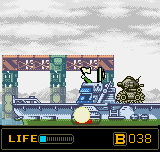 The fight takes place on a broken pier while the Hero rides the SV-000. The ship itself has a cannon in the front that fires a projectile which eventually splits into four smaller pieces. The ship's driver pops out in the middle of the ship, although he does nothing and goes inside when scared off. The SV-000 is free to land on the ship to fire few shots, but the cannons in the ship's back will open as retaliation. The Rebel ship also has a tendency to move off-screen and dive underwater for a few moments.
The ship is weak to the SV-000's cannons, so a few cannon blasts from the back will take it down. Be sure to jump back to the bridge as the destroyed ship will sink and take the SV-000 along with it.
Ad blocker interference detected!
Wikia is a free-to-use site that makes money from advertising. We have a modified experience for viewers using ad blockers

Wikia is not accessible if you've made further modifications. Remove the custom ad blocker rule(s) and the page will load as expected.