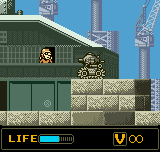 Weapons Port is the fourteenth mission of Metal Slug: 1st Mission.
Mission Synopsis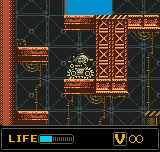 The Hero enters an SV-000 and travels through a warehouse facility located at a port. The warehouses can be entered to rescue POWs and collect items although it is not necessary to enter any of them. The Rebel Battleship is the mission's boss.
Destruction of the SV-000 tosses the Hero to Prison Camp, but the player gets a Game Over if it occurs during the boss. In camp, they first navigate a winding hallway filled with moving blocks, and then avoiding watch lights and watchdogs (and other obstacles).
Routing
Mission Entry
Complete Mission 13 (Invasion in the Sea of Trees).
Mission Departure
Mission Complete: Retreat to Mission 12 (Weapons Dump).
Complete Prison Camp: Retreat to Mission 11 (Fortress).
Prison Camp Gallery
Ad blocker interference detected!
Wikia is a free-to-use site that makes money from advertising. We have a modified experience for viewers using ad blockers

Wikia is not accessible if you've made further modifications. Remove the custom ad blocker rule(s) and the page will load as expected.