---
---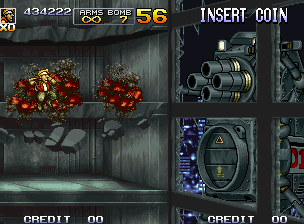 The Wall Crawler is the third boss in Metal Slug 5.
Information
This is a special unit created by the Ptolemaic Army. It can climb any building with ease, and also demolish the building with its sonic cannon.
Details
Its main attack consists of fire three shells from its cannon at the player that can be ducked or jumped over. Once in a while, the operator will get out of the unit and call a bazooka guerilla. It will also fire a series of rockets or use its powerful sonic cannon to shatter the floor the player is standing on.
Trivia
The commander inside the Wall Crawler has an unused animation where he is presumably seen punching or throwing something.
Ad blocker interference detected!
Wikia is a free-to-use site that makes money from advertising. We have a modified experience for viewers using ad blockers

Wikia is not accessible if you've made further modifications. Remove the custom ad blocker rule(s) and the page will load as expected.