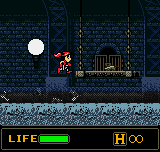 Underground Battle Pass is the fourth mission of Metal Slug: 1st Mission.
Mission Synopsis
The Hero traverses through an underground sewer avoiding the Rebels, piranhas, bats, and latching rats. If the player completed Mission 3 by the second hidden exit, the Hero enters this mission from a later point. The various lights surrounding the sewer's walls block the player's projectiles and dims the stage as the light dissipates.
Routes
Mission Entry
Access the Hidden Routes of Mission 3 (Battle in the City).
Incomplete Mission 9 (Discovery of a Secret Passage).
Mission Departure
Mission Complete: Proceed to Mission 10 (Night Flight).
Ad blocker interference detected!
Wikia is a free-to-use site that makes money from advertising. We have a modified experience for viewers using ad blockers

Wikia is not accessible if you've made further modifications. Remove the custom ad blocker rule(s) and the page will load as expected.