The U25U is a rebel submarine in Metal Slug 3.
Information
The rebels needed some submarines for underwater battles. Thus, the engineers of the rebellion came with the Mini-Sub 88 and the U25U. It is bigger and heavier than it little brother, and is remotely-operated too.
Versions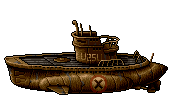 Brown Version: Common version and better armored and more maneuverable than the grey version.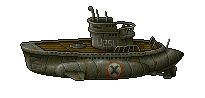 Grey Version: Less common and weaker than the brown version in every way.
Trivia
They were based on german U-Boats.
They appear as minor enemies of the game In The Hunt.
Ad blocker interference detected!
Wikia is a free-to-use site that makes money from advertising. We have a modified experience for viewers using ad blockers

Wikia is not accessible if you've made further modifications. Remove the custom ad blocker rule(s) and the page will load as expected.