Toschka Dalanue
Rarity
Faction
Independent
AP cost
1100
990
880
Optimal range
Long
Traits
Mass Damage
Playable since
1.16.1
In-Game Description
"This armed tower was created by the Amadeus Syndicate. It can repel all its approaching enemies with its barrages of gunfire."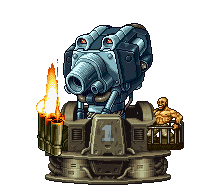 The Toschka Dalanue is a playable unit in Metal Slug Attack, first appearing in the Extra Ops "Destroy the Tower". As this event has ended, there is currently no way to obtain its parts or items.
Much like Assy Nero, when deployed, the Toschka Dalanue does not visually appear, since it is dropped from the air. It will still show up on the radar to indicate where it is. When an enemy unit is within range, Toschka Dalanue will drop with Sectors 1 and 2 (as any more would cause it to be too large to fit the screen).
The Toschka Dalanue can be compared to the Big Shiee, as these two units are similar to each other. Both are well known for their massive damage via special attack. The Toschka Dalanue cannot move once placed, but makes up for this with greater damage (14,520 compared to 10,000) and launches the special attack faster than the Big Shiee. This damage can be further boosted with

4.
Compared to its MK II variant, it's inferior in almost every way - the MK II has faster deployment time and more powerful attacks. The range skill of the Toschka Dalanue is often seen as a hindrance, as it forces it to appear further from the frontlines, where it's special will have limited effect.
When placed in a deck with the Amadeus Corporal, they form the "The Last Bastion" team. This lowers their AP costs by 10%.
Attacks
Long Range

Bullet curtain (Spread) - Unleashes a barrage of gunfire; Rebels fire bazooka and rifle rounds from sector 2, while fake Allen fires parachute bombs.
Special

Super heavy bombardment (Spread) - Fake Allen fires the main battery of the tower, dealing massive damage. AoE increases with

4 unlocked.
Health
Attribute
Resistance
Lvl

Kinetic
Increased
1
20000
22000
24200
26620
29282
10
30000
33000
36300
39930
43923

Explosive
Increased
20
40000
44000
48400
53240
58564
30
50000
55000
60500
66550
73205

Incendiary
Increased
40
60000
66000
72600
79860
87846
50
70000
77000
84700
93170
102487
* HP might be increased by skills / items or buffs
Strengthen Weapon

Strengthen all attack power by 10% (+0.5% each level).

---

All-around Armor

HP will increase by 20% (+1% each level).

---

Bullet Curtain's Range Enhancement

Increase Flight Distance by 20% (+0.8% each level).

---

5t Shell

Area of Special Attack will increase.
Strengthen Special Attack power by 10% (+0.5% each level).

---
Ad blocker interference detected!
Wikia is a free-to-use site that makes money from advertising. We have a modified experience for viewers using ad blockers

Wikia is not accessible if you've made further modifications. Remove the custom ad blocker rule(s) and the page will load as expected.