---
---
This page relates to a Metal Slug Attack unit; for information about this boss in the main series, see The Keesi.
The Keesi II
Rarity
Faction
Rebel Army
AP cost
800
720
640
Optimal range
Medium
Traits
Suicide Attack
Playable since
1.7?
In-Game Description
"A bomber equipped with a vertical take-off and landing engine. A tank named "Bull Chan" is inside the bomber."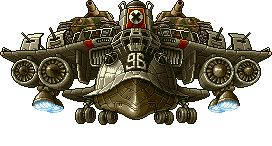 The Keesi II is a unit available in Metal Slug Attack. Unlike its Metal Slug Defense incarnation, this version boasts higher HP, firepower, and speed, as well as an additional suicide attack. It originally appeared on the Medal / VIP Cranks, but can currently only be obtained via the Extra / Rare Shops (at a base rate of 40 medals per part).
When deployed it acts like the similar Keesi III, slowly floating towards the frontline. Its main attack consists of Bull Chans firing from its wings, while its special flares its jet engines to incinerate any enemy troops that dare pass through (assuming it isn't stunned or knocked back while performing it - which is easily done). With

2 unlocked, its destruction will cause it to perform a suicide attack in a manner similar to the Dai-Manji, dealing massive splash damage.
A non-playable version of the unit also exists, attacking with its jet engines alone. This only appears during the Combat School's Ultra Hard "Releasing POWs" map.
When placed in a deck with the Big Shiee and Assy Nero, they form the "Second Rebellion" team, lowering their AP costs by 15%. (This is a reference to the second game).
Attacks
Short Range

Falling Tanks (Spread) - The Bull Chan is dragged off the Keesi II, falling into enemies below and crushing them.
Long Range

Cannon (Spread) - The Bull Chans fire on enemies below them.
Special Attack

Jet Engine (Spread) - Burns down enemies with its fiery jet engines. Duration extended with

4 unlocked.
Health
Attribute
Resistance
Lvl

Kinetic
Normal
1
7000
7700
8470
9317
10248
10
10500
11550
12705
13975
15373

Explosive
Reduced
20
14000
15400
16940
18634
20497
30
17500
19250
21175
23292
25621

Incendiary
Reduced
40
21000
23100
25410
27951
30746
50
24500
26950
29645
32609
35870
* HP might be increased by skills / items or buffs
Ad blocker interference detected!
Wikia is a free-to-use site that makes money from advertising. We have a modified experience for viewers using ad blockers

Wikia is not accessible if you've made further modifications. Remove the custom ad blocker rule(s) and the page will load as expected.