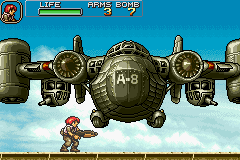 The Keesi III is the boss of stage 4 in Metal Slug Advance. It is developed after The Keesi.
Series Information
This is the perfection of the Rebels' answer to providing Close Air Support while making the aircraft able to stick to the battle zone until the fight is over and it use for local battle. It is made to give more infantry and fire support than the first model, The Keesi.
Details
This boss constantly moves around the screen, so it's important to keep track of his movements. It uses his two machine gun turrets and which fire bullets at varying speeds, but are easy to avoid. Sometimes, it will stop in the middle, and let rebel soldiers from both sides. Some of them will be yellow, and the player should shoot them in order to get some Enemy Chaser ammo (this is the only chance to get ammo, because after half of its energy has been depleted, it will no longer let out troops). Once the turrets have been destroyed or flames start appearing, It will use new tactics. One of them is that it will fly off the screen, and then comes flying back from the left or right, firing its machine guns as it goes in a pattern. If the player stands in the right spot, these attacks can be avoided with ease. Its other attack is to use its machine guns to trap the player in the middle, then opening its hatch and launching a large missile. When fired, it crashes down onto the character's position. If the player moves in time to evade this, the plane will instead fly off the screen, coming flying down on the player's position and crashing the missile onto the character (this can take down half of the player's health). Its normal machine gun turret attack also speeds up, but is still easy to avoid.
Having the Flame Shot, F.S. Clip, F. Shot, Grenade Clip, S.S. Sword and Demon God cards activated will provide short work of this boss, receiving them a card of The Keesi III.
Trivia
The Keesi III is based on the Nazi German Messerschmitt 323 Gigant supply plane used in the Second World War.
Ad blocker interference detected!
Wikia is a free-to-use site that makes money from advertising. We have a modified experience for viewers using ad blockers

Wikia is not accessible if you've made further modifications. Remove the custom ad blocker rule(s) and the page will load as expected.