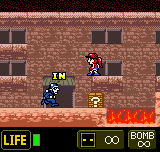 Terrain Carrier is the tenth mission of Metal Slug: 2nd Mission. Only Red Eye has access to this stage. Five prisoners exist in this mission.
Mission Synopsis
Red Eye arrives at a town that has gone ablaze, with various citizens attempting to escape. Touching the fire takes away part of the life meter. Reaching the other side of town will cross paths with the Terrain Carrier. To defeat it, shoot away the four cannons that appear on the ship. Occasionally, the carrier will deploy a Flying Tara as backup.
Pre-mission Calls
Arrives from Mission 3
| | |
| --- | --- |
| | I'm at the contact point. The city is ruined. Why? |
| | All of a sudden, a Terrain Carrier! Whoaa! I'm evacuating. Fall back! |
| | Now it's becoming more like a real mission! A little sabotage! I'll get info later. Time to attack! |
Arrives from Mission 9
| | |
| --- | --- |
| | Drop successful! But I'm in kind of a pickle. I'm from IHQ. Is there any one out there? |
| | What's this? In an emergency?! |
| | I'm from IHQ. I've come to confirm some info. But I've really stepped into it! |
| | All of a sudden, a Terrain Carrier! Whoaa! I'm evacuating. Fall back! |
| | Leave the sabotage to me. And give me the info later! |
Route
Completing this mission proceeds to Mission 12 (Save All Hostages!).
Prisoners
Ad blocker interference detected!
Wikia is a free-to-use site that makes money from advertising. We have a modified experience for viewers using ad blockers

Wikia is not accessible if you've made further modifications. Remove the custom ad blocker rule(s) and the page will load as expected.