This page relates to a Metal Slug Attack unit; for information about this boss in the main series, see Tani Oh.
Tani Oh
Rarity
Faction
Rebel Army
AP cost
1,400
1,260
1,120
Optimal range
Long
Traits
Pierce
Playable since
1.17
In-Game Description
"The massive tank is perfect to "clean up" large enemy areas. The equipped « Andro Cannon » can rotate."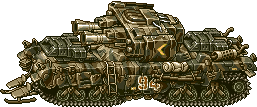 The Tani Oh is a large tank designed for alpine terrain, first appearing in Metal Slug Attack during the Extra Ops titled "Santa Trap" (obtained by beating the event stages).
By default, it attacks by firing mines towards the enemy front line. These explode when they make contact with opposing units (or after a set amount of time has passed). Its special fires its large Andro Cannon forwards, dealing massive damage in addition to pierce capability and high knockback. Try to avoid having enemy units get within melee distance of the Tani Oh, as it will be unable to damage them with its normal attack.
A non-playable version also exists in Attack! mode, where it appears as Tuesday's boss. It is fought in a manner similar to the Tani Oh seen in Metal Slug: Super Vehicle-001, as it moves below the regular play area. This version relies on vulcan fire instead of the playable version's mine launchers, and its Andro Cannon has a stun effect.
Although the Tani Oh has appeared in other Metal Slug games, the Metal Slug Attack version is the first to depict its main Andro Cannon facing directly forwards during gameplay.
If placed in a deck with the Winter Soldier they form the "Valley King" team, lowering their AP costs by 10%.
Attacks
Long Range

Naval Mine (Spread) Launches six mines from its smaller turrets. These will explode upon contact with an enemy, or after a set time has passed.
Special

Andro Cannon (Spread) Fires both barrels of its main turret.
Health
Attribute
Resistance
Lvl

Kinetic
Normal
1
20000
22000
24200
26620
29282
10
30000
33000
36300
39930
43923

Explosive
Normal
20
40000
44000
48400
53240
58564
30
50000
55000
60500
66550
73205

Incendiary
Reduced
40
60000
66000
72600
79860
87846
50
70000
77000
84700
93170
102487
* HP might be increased by skills / items or buffs
Strengthen Weapons

Strengthen all attack power by (10%, +0.5% each level).

---

All-Around Armor

HP will increase by (20%, +1.0% each level).

---

Quick Reload

Strengthen Special Attack speed by (10 frames, +1 each level).

---

Andro Cannon

Strengthen Special Attack power by (10%, +0.5% each level).

---
Videos
Ad blocker interference detected!
Wikia is a free-to-use site that makes money from advertising. We have a modified experience for viewers using ad blockers

Wikia is not accessible if you've made further modifications. Remove the custom ad blocker rule(s) and the page will load as expected.