This page relates to a Metal Slug Attack unit; for more information about this boss in the main series, see Stone Turtle.
Stone Turtle
Rarity
Faction
Ptolemaic Army
AP cost
2,000
1,800
1,600
Optimal range
Short
Traits
Stun
Buff
Damage Soaking
Playable since
1.0.2
In-Game Description
"An ultra-gigantic secret weapon unearthed by the Ptolemaic Army. Due to its gigantic size, the war ended before the excavations."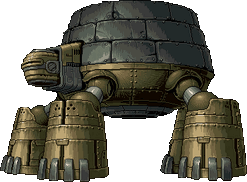 Cut content from Metal Slug 5, the Stone Turtle is a large boss unit appearing in Metal Slug Attack. It's available via the Team Battle Shop, and parts can also be obtained through the Treasure Hunt once VIP level 5 has been reached.
It offers a hefty health pool and is very large, so it can shield many allies. Unfortunately, it has poor damage with both its stomp and missile attacks, though the missiles can stun with

2 unlocked. Ptolemaic Army faction members can also enjoy a health buff (up to 34.5%, with a maxed out

4).
Ptolemaios also has the same health buff as the Stone Turtle to give Ptolemaic Army units even more health, in addition to a speed increase buff. However, he is considerably harder to unlock.
Attacks
Short Range

Squish (Spread) - Stomps its enemies using its gigantic foot, dealing massive damage in a medium area.
Special

Missile Salvo (Spread) - A pair of missile turrets appear on the side of the Stone Turtle, and shoot out eight rockets (in four sets of two). With

2 unlocked, these additionally have stun capability.
Health
Attribute
Resistance
Lvl

Kinetic
Increased
1
60000
66000
72600
79860
87846
10
90000
99000
108900
119790
131769

Explosive
Normal
20
120000
132000
145200
159720
175692
30
150000
165000
181500
199650
219615

Incendiary
Normal
40
180000
198000
217800
239580
263538
50
210000
231000
254100
279510
307461
* HP might be increased by skills / items or buffs
Strengthen Driving

Movement will increase by (0.10, +0.02 each level).

---

Suppression Warhead

When a Special Attack hits, there is (10%, +0.5% each level) chance that the enemy will be stunned.

---

Rock Shell

HP will increase by (20%, +1% each level).

---

Authority

Increase HP of ally's PM Army units by (10%, +0.5% each level).

---