---
---
Spacey Nokana
Rarity
Faction
Rebel Army
AP cost
600
540
480
Optimal range
Long
Traits
Pierce
Critical
Playable since
2.3.1
In-Game Description
"A version of the "Iron Nokana" developed especially for Abigail. A laser weapon has been fitted allowing to her to perform long distance attacks which are her specialty. Secondly, this machine's color and name has been decided by her strong hopes."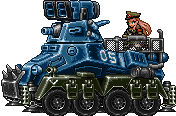 The
Spacey Nokana
is a playable unit in
Metal Slug Attack
, first appearing as a pre-acquisition unit (obtained by purchasing 10,000 medals). Parts are currently available through the Medal/VIP Crank.
Abigail riding a customized Iron Nokana (which colors are based on Trevor Spacey, hence the name), the Spacey Nokana is different to the Iron Nokana and its MK II variant. The Spacey Nokana's standard attacks have much longer range, and as with her specialty of lasers, the Spacey Nokana's special shoots out an even larger piercing laser. Like the Iron Cab, the laser does significant damage to all enemies. This means it is perfect at taking out backline units like the Lovely Mummy, and ending a stalemate if one should happen.
It functions as a much cheaper (and more efficient) Iron Cab, as the Spacey Nokana's attacks are all spread with pierce capability. It is also much like Abigail (walking on foot), as it can deal hefty damage while avoiding the front line, with the notable difference of much more health and the ability to hit mid-air units. It is still helpless against enemies on the ceiling, however, and its attacks lack the debuffing effect that Abigail would have when on foot.
When placed in a deck with Special Dragunov, they form the "Special Form" team, lowering their AP costs by 10%.
Attacks
Close Range

Missile (Spread) - Orders the Nokana to fire a short range burst of three missiles.
Long Range

Rapid-Fire Missile (Spread) - Orders the Nokana to fire a long range burst of three missiles.
Special

High-Power Laser (Spread) - Orders the Nokana to fire a high-powered laser from its ball turret while laughing at enemies.
Health
Attribute
Resistance
Lvl

Kinetic
Increased
1
22000
24200
26620
29282
32210
10
33000
36300
39930
43923
48315

Explosive
Increased
20
44000
48400
53240
58564
64420
30
55000
60500
66550
73205
80525

Incendiary
Increased
40
66000
72600
79860
87846
96630
50
77000
84700
93170
102487
112735
* HP might be increased by skills / items or buffs
Trivia
When the special attack is used, Abigail's laugh can be heard.
Ad blocker interference detected!
Wikia is a free-to-use site that makes money from advertising. We have a modified experience for viewers using ad blockers

Wikia is not accessible if you've made further modifications. Remove the custom ad blocker rule(s) and the page will load as expected.