This page relates to a Metal Slug Attack unit; for information about this vehicle in the main series, see Slug Gigant.
Slug Gigant
Rarity
Faction
Regular Army
AP cost
1,400
1,260
1,120
Optimal range
Medium
Traits
?
Playable since
1.7.0
In-Game Description
"Here comes the Regular Army's lethal weapon! It can protect any base thanks to its impregnable defense."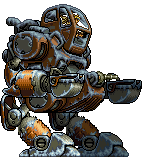 The Slug Gigant is a Super Rare unit appearing in Metal Slug Attack, originally as a pre-acquisition unit for the Extra Ops titled "Score Attack!!". It boasts more health, speed, and firepower than its Metal Slug Defense incarnation.
When placed in the same deck as the Rebel Gigant, their AP cost are lowered by 10%, forming the "Gigant Slug" team.
Attacks
Short Range

(Spread) - Nearest enemies are bashed with its mechanical arms.
Long Range

Vulcan - It will use its Vulcans to rain down bullets, dealing moderate damage.
Special Attack

Giga Cannon (Spread) - Fires giga cannon that deals massive damage.
When 4 is unlocked, more giga cannon can be fired.
Health
Attribute
Resistance
Lvl

Kinetic
Increased
1
25000
27500
30250
33275
36602
10
37500
41250
45375
49912
54903

Explosive
Normal
20
50000
55000
60500
66550
73205
30
62500
68750
75625
83187
91506

Incendiary
Normal
40
75000
82500
90750
99825
109807
50
87500
96250
105875
116462
128108
* HP might be increased by skills / items or buffs
Strengthen Driving

Movement will increase by (0.10, +0.3% each level).

---

All-Around Armor

HP will increase by (10%, +?% each level).

---

Strengthen Weapons

Strengthen all attack power by (10%, +?% each level).

---

Gigant Cannon

Number of Special Attacks will increase.
Strengthen Special Attack power by (10%, +?% each level).

---
Introduction Video
Ad blocker interference detected!
Wikia is a free-to-use site that makes money from advertising. We have a modified experience for viewers using ad blockers

Wikia is not accessible if you've made further modifications. Remove the custom ad blocker rule(s) and the page will load as expected.