---
---
This page relates to a Metal Slug Attack unit; for information about this creature in the main series, see Huge Hermit.
Skull Hermit
Rarity
Faction
Independent
AP cost
800
720
640
Optimal range
Short
Traits
Playable since
2.8.0
In-Game Description
"This is the huge hermit that has been improved as an anti-bikers weapon. Any attacked opponent becomes literally shredded. It chases after Veronica's bikers with a high level of precision, ready to blast high-speed machines with unwavering cruelty."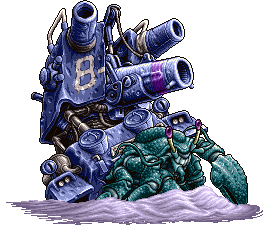 The Skull Hermit is a playable unit in Metal Slug Attack, made available during the Extra Ops titled "Bicycle Maiden".
The Huge Hermit has been redesigned to deal with Veronica and her bikers. It is essentially an improved version of the Huge Hermit, boasting higher health and damage at the cost of slightly slower movement.
As its standard attack, it uses its claw to attack the enemy. With

3, the Skull Hermit will be able to use its long range attack while moving; otherwise, it will have to attack a nearby enemy unit in order to use it. As its special, it dashes towards the front line, shooting out a large rock. With

4, the Skull Hermit shoots additional rocks.
When placed in a deck with the Skull Snail, they form the "Skull Shell" team, lowering their AP costs by 10%.
Attacks
Short Range

Claw (Spread) - Uses its claw to slash at the enemy.
Long Range

Fireball (Spread) - A fireball launches out from its cannon.
Special

Rock (Spread) - Dashes towards the front line, shooting out a large rock in the process (this also uses its short range attack). Three rocks thrown with

4.
Health
Attribute
Resistance
Lvl

Kinetic
Normal
1
50000
55000
60500
66550
73205
10
75000
82500
90750
99825
109807

Explosive
Normal
20
100000
110000
121000
133100
146410
30
125000
137500
151250
166375
183012

Incendiary
Increased
40
150000
165000
181500
199650
219615
50
175000
192500
211750
232925
256217
* HP might be increased by skills / items or buffs
Videos
Ad blocker interference detected!
Wikia is a free-to-use site that makes money from advertising. We have a modified experience for viewers using ad blockers

Wikia is not accessible if you've made further modifications. Remove the custom ad blocker rule(s) and the page will load as expected.