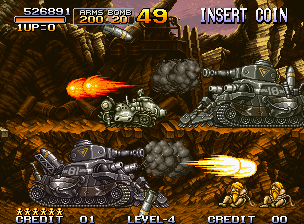 Shoe & Karn are a pair of massive tanks that together make up the fourth boss in Metal Slug: Super Vehicle-001. They are each armed with one main turret-mounted cannon, two sub-cannon turrets on the front, and a missile launcher on the back. Two side-mounted hatches allow soldiers to help defend the tank as well, usually with bazookas or rocket launchers.
Details
The tanks are fought at the same time, Shoe on the bottom floor and Karn on the top. They drive from side to side; if the player is in front of a tank, it will fire its main cannons. If the player is behind it, a Rebel will fire a bazooka at the player from a hatch on the side. Regardless of the player's position, they will take turns raining missiles on them. Although they can run over a human enemy, they will not be able to move if the player blocks them with a Metal Slug.
A brown version appears as a miniboss in Mission 5, where it comes from behind the player while they're trapped by a gate. Another one appears as a miniboss in Metal Slug X, also in Mission 5.
Shoe & Karn Colors


Shoe: First of the Twins, can be encountered in the lower part of the field, facing the player's direction.


Karn: Second of the Twins, can be encountered in the upper path, facing the opposite direction of the player.


Shoe (brown): The miniboss version from Metal Slug and Metal Slug X, appears in Mission 5 of both games.
Trivia
Shoe & Karn are based on the German VK 4501 (P) heavy tank prototype and Tiger II heavy tank.
Beyond the color palette, the only difference between the two tanks is that Shoe's missiles fire off of a ramp.
Karn also appears in Metal Slug Mobile 3, but is never seen during gameplay.
An early concept of Shoe & Karn's model is depicted with a two-barreled anti-aircraft cannon instead of the cruise missiles found in the game's final version.
Shoe & Karn's miniturrets are bear a resemblance to the British Medium Mark III medium tank, the Russian T-28 medium tank and the Japanese O-I super-heavy tank prototype.
Shoe & Karn's artwork depicts the tanks as blue, while in the games themselves Shoe & Karn come in three colors: brown, gray and purple.
Gallery