This page relates to a Metal Slug Attack unit; for more information about this boss in the main series, see Bull Drill.
Sergeant Drill
Rarity
Faction
Rebel Army
AP cost
1,200
1,080
960
Optimal range
Medium
Traits
Critical
Playable since
2.1.0
In-Game Description
"A machine that Allen built exclusively for him in order to defeat the Regular Army. It can throw huge rocks in a long-distance."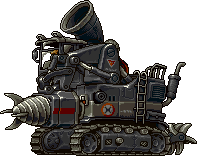 This incarnation of the Bull Drill was built by Allen O'Neil in order to defeat the Regular Army, and became available in the Extra Ops titled "Tough & Cool".
It primarily attacks by tossing three large boulders towards enemies, dealing large amounts of damage. Its special is different from its original counterpart; rather than drilling the ceiling and causing a cave-in, Allen activates the machine's drill, dealing massive damage, though it only hits a few times. With

4, Allen will also perform an additional charge attack to deal more damage.
When placed in a deck with the Balor, they form the "Out of Place" team, reducing their AP costs by 10%.
Attacks
Short Range

(Spread) - tosses 3 boulders against the nearest enemies.
Long Range

Rock (Spread) - same as the short-range attack, but in a longer range.
Special Attack

Drill Attack (Spread) - Allen uses the machine's drill and impales enemies with it (has pierce capability). Will also rush forward if

4 is unlocked.
Health
Attribute
Resistance
Lvl

Kinetic
Increased
1
40000
44000
48400
53240
58564
10
60000
66000
72600
79860
87846

Explosive
Normal
20
80000
88000
96800
106480
117128
30
100000
110000
121000
133100
146410

Incendiary
Increased
40
120000
132000
145200
159720
175692
50
140000
154000
169400
186340
204974
* HP might be increased by skills / items or buffs
Equip Anti-Armor

Critical rate for all attacks will become (10%, +0.5% each level).

---

Strengthen Weapons

Strengthen all attack power by (20%?, +?% each level).

---

All-Around Armor

HP will increase by (20%?, +?% each level).

---

Drill Attack

Number of Special Attacks will increase.
Range of Special Attack by (10%, +0.5% each level).

---
Videos
Ad blocker interference detected!
Wikia is a free-to-use site that makes money from advertising. We have a modified experience for viewers using ad blockers

Wikia is not accessible if you've made further modifications. Remove the custom ad blocker rule(s) and the page will load as expected.