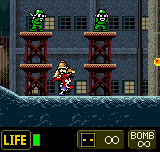 Save All Hostages! is the twelfth mission of Metal Slug: 2nd Mission. Only Red Eye has access to this stage. Nine prisoners exist in this mission.
Mission Synopsis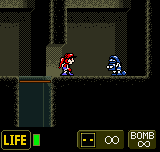 After Red Eye has destroyed the Terrain Carrier, she realizes that she ran out of ammunition. An agent of IHQ tells Red Eye that Col. O' Connor has the information she needs, but she has to rescue O'Connor in a gulag in order to get it. With no ammo at Red Eye's disposal, her only choice is to use her knife as an attack and whatever pineapple grenades she can find.
Despite the mission's name, the rescue of Col. O'Connor immediately ends the mission. O'Connor is represented as a blue-colored POW and is found on the upper-rightmost room of the building.
Pre-mission Call
| | |
| --- | --- |
| | Terrain Carrier is destroyed! But I overdid it and used up all my ammo! No matter. I just need to get info. This is Red Eye! Do you copy? Over? ………. What? Over!! No answer? What about the info I need? |
| | Col. O'Connor was captured along with the info. If you want the info he has, go to the gulag and get him out! |
| | Roger! I'll save the Colonel for sure. Uh oh… I've no weapon. |
Route
Completing this mission proceeds to Mission 15 (Into the Fray).
Prisoners
Ad blocker interference detected!
Wikia is a free-to-use site that makes money from advertising. We have a modified experience for viewers using ad blockers

Wikia is not accessible if you've made further modifications. Remove the custom ad blocker rule(s) and the page will load as expected.