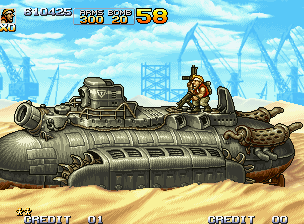 The Sandmarine is the fourth boss of Metal Slug 5.
Information
This is a special submarine created by the Ptolemaic Army, designed to travel under the ground.
Details
The boss will sink and emerge from the sand all the time, while launching a volley of fireballs that are tricky to dodge. It can also fire electric cannon from the back that track the player, or shoot its frontal cannon. If you stand in front of it for too long, it may also fire two missiles that go straight ahead. They can be hard to dodge if the Sandmarine has you backed up right against the left side of the screen.
Trivia
In the arcade flyer for MS5, the Sandmarine can be seen and it is clearly visible that it had a different design than the one it uses in-game, this may have been either an early concept of the Sandmarine or the true design for it if the game had not been rushed.
It slightly resembles an enemy from the game In the Hunt.
It also appears in Metal Slug Defense as boss in 1.29.0 Event world, and also appears in some special mission.
It appears too in Metal Slug Attack as a obtainable unit on the 1.14.0 update. It can be obtained on the event "Sand Locker" as a ranking reward.

Unlike it MSD's version, this have been improved in every way and with a cost of 1000 AP (800 AP on Diamond evolution).

You can see the emblem of the Ptolemaic Army on the Sandmarine; the upside-down triangle with the T in the middle.