This page relates to the Metal Slug Attack unit. For more information about this unit, see Rootmars.
Rootmars
Rarity
Faction
Martians
AP cost
2000
1800
1600
Optimal range
Medium
Traits
Stun, Buff
Playable since
1.13.0
In-Game Description
"Creature from another planet. The corpse from the sea has been taken and controlled by the Invaders. Gen. Morden lays the recapture from them."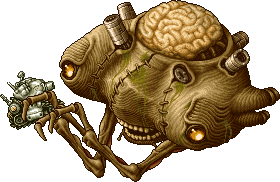 Rootmars is a playable unit in Metal Slug Attack, first appearing in the Extra Ops titled "Alien vs. Morden". Parts are currently available through Another Story, from the "SP" story titled "Endless Summer Vacation".
Rootmars primarily attacks by spitting green acid balls from its mouth, and its special attack is bursting out electric shock wave from its brain. With

3 unlocked, all of Rootmars' attack has the ability to potentially stun the enemy units.
Furthermore,

4 provides an attack boost for its faction, helping units like Odette deal even more damage with their attacks. It's high health also makes it capable of defending itself without getting destroyed quickly, unlike Ptolemaios, who has low health.
Rootmars has two team bonuses:
Attacks
Stats
Health
Attribute
Resistance
Lvl

Kinetic
Normal
1
50000
55000
60500
66550
73205
10
75000
82500
90750
99825
109807

Explosive
Normal
20
100000
110000
121000
133100
146410
30
125000
137500
151250
166375
183012

Incendiary
Normal
40
150000
165000
181500
199650
219615
50
175000
192500
211750
232925
256217
* HP might be increased by skills / items or buffs
Trivia
Rootmars, along with Abul Abbas and the Mini Hermit, are the only units in Metal Slug Attack which are part of two different teams.
Ad blocker interference detected!
Wikia is a free-to-use site that makes money from advertising. We have a modified experience for viewers using ad blockers

Wikia is not accessible if you've made further modifications. Remove the custom ad blocker rule(s) and the page will load as expected.