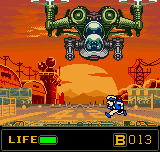 The Rebel VTOL is the first boss of Metal Slug: 1st Mission. It is found at the end of Mission 0 (Emergency Mobilization).
Boss Synopsis
The Rebel VTOL slowly hovers around the screen. Once it stops moving, the VTOL tilts its Gatling guns on one side and starts firing to the ground until the VTOL's guns tilt to the other side. A Machine Gun crate and a Bomb crate are hidden in the arena.
The Power Generators from Metal Slug: 2nd Mission work similar to the Rebel VTOL.
Ad blocker interference detected!
Wikia is a free-to-use site that makes money from advertising. We have a modified experience for viewers using ad blockers

Wikia is not accessible if you've made further modifications. Remove the custom ad blocker rule(s) and the page will load as expected.