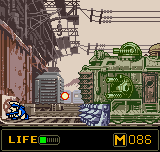 The Rebel Train is a boss found in Metal Slug: 1st Mission. It is fought in Mission 3 (Battle in the City).
Boss Synopsis
The Rebel Train has three cannons, one at the top and two at the side, and spikes at the front. The bottom-most cannon fires its shots horizontally while the other two fire at an arc. The Rebel Train slowly inches towards the Hero, who is stuck between the boss and a wall, eventually losing room to dodge the cannon fire.
Ad blocker interference detected!
Wikia is a free-to-use site that makes money from advertising. We have a modified experience for viewers using ad blockers

Wikia is not accessible if you've made further modifications. Remove the custom ad blocker rule(s) and the page will load as expected.