---
---
This page relates to a Metal Slug Attack unit; for more information about this boss in the main series, see Ptolemaios.
Ptolemaios (Curse)
Rarity
Faction
Ptolemaic Army
AP cost
1,600
1,440
1,280
Optimal range
Short
Traits
Playable since
2.1.0
In-Game Description
"Priest that should have been killed by the Red Goblin. His resurrection is related with the Ptolemaic Army's deep secrets."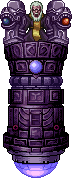 The cursed version of Ptolemaios, this incarnation first appeared in the Extra Ops "Signs of Curse" as the boss unit. Parts were obtained through daily ranking.
Unlike his normal incarnation, cursed Ptolemaios has no support capabilities. He has the highest base health pool in-game, though his subpar combat capabilities hinders this health.
When placed in a deck with the Cursed Masked Soldier, they form the "Signs of Curse" team. This decreases their AP costs by 10%.
Attacks
Long Range

Rosetta Stone (Spread) - Prepares his weapon, and three Rosetta Stones will fall from above.
Special

Tetrabiblos (Spread) - Zaps enemies with three bolts of lighting generated from the cursed orb. More lighting strikes are performed (5 or 6 bolts) with

4 unlocked.
Health
Attribute
Resistance
Lvl

Kinetic
Increased
1
60000
66000
72600
79860
87846
10
90000
99000
108900
119790
131769

Explosive
Normal
20
120000
132000
145200
159720
175692
30
150000
165000
181500
199650
219615

Incendiary
Increased
40
180000
198000
217800
239580
263538
50
210000
231000
254100
279510
307461
* HP might be increased by skills / items or buffs