Pharaoh's Arc
Rarity
Faction
Independent
AP cost
800
720
640
Optimal range
Long
Traits
Stun
Homing
Playable since
1.7.1
In-Game Description
"His personality is warlike, lustful and curious. His chariot constructed by abundant mummies tramples on the modern arms."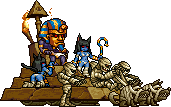 The Pharaoh's Arc is a unit original to Metal Slug Attack, first appearing in the Extra Ops titled Mummy's. Along with the Pharaoh himself, the Arc is accompanied by a selection of Mummies, Dog Mummies, and Mummy Cats.
Its regular "attack" consist of having the Mummies and Dog Mummies fire their poisons in unison, while the Pharaoh himself hurls a large "curse" ball for the special. Skills

1 and

2 add stun, while

4 adds a homing effect to the ball.
As the "Mummy's" Extra Ops has ended, the only way to obtain parts of the Pharaoh's Arc is by completing Another Story's boss levels in the The Pharaoh's Treasure chapter. The torches and mummy poison can also be obtained on those levels, or occasionally via the Rare Shop.
Attacks
Long Range

Mummies' Fusillade (Spread) Orders nine Dog Mummy barks, and three Mummy poison bombs. Stuns with

1.
Special

Curse Bullet (Spread) Hurls a Curse Ball at the opposing side. Stuns with

2, and homes in on targets with

4 (potentially carrying on to seek new ones as they die).
Health
Attribute
Resistance
Lvl

Kinetic
Increased
1
6000
6600
7260
7986
8784
10
9000
9900
10890
11979
13176

Explosive
Normal
20
12000
13200
14520
15972
17569
30
15000
16500
18150
19965
21961

Incendiary
Reduced
40
18000
19800
21780
23958
26353
50
21000
23100
25410
27951
30746
* HP might be increased by skills / items or buffs
Ancient Curse

When a Long Range Attack hits, there is a 10% (+0.5% each level) chance that the enemy will be stunned.

---

Pharaoh's Curse

When a Special Attack hits, there is a 10% (+0.5% each level) chance that the enemy will be stunned.

---

Beborn Tyrant

HP will increase by 10% (+0.5% each level).

---

Super Curse Ball

Area of Special Attack will increase.
Strengthen Special Attack power by 10% (+0.5% each level).

---
Videos
Ad blocker interference detected!
Wikia is a free-to-use site that makes money from advertising. We have a modified experience for viewers using ad blockers

Wikia is not accessible if you've made further modifications. Remove the custom ad blocker rule(s) and the page will load as expected.