---
---
This page relates to a Metal Slug Attack unit; for information about this vehicle in the main series, see M-3 Rocket Launch Support Van.
Parachuetruck
Rarity
Faction
Rebel Army
AP cost
440
418
396
374
Optimal range
Medium
Traits
Critical
Anti-Air
Playable since
2.0.5
In-Game Description
"Large armed truck of Rebel Army. Parachuetruck shoots a number of parachute bombs to the air."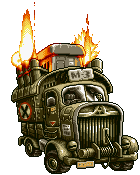 The Parachuetruck is a playable unit in Metal Slug Attack, with its parts being obtainable during the Extra Ops titled "Power of new Versions".
A large truck with durable armor and strong firepower, which fires waves of Parachute Bombs. The Parachuetruck is highly effective against units like the The Keesi III. The special must be timed correctly though, as it has a rather short range. It has a higher AP cost than its Metal Slug Defense counterpart.
When placed together with Red Devil Morden, they form the "Devil of Aircraft" team, lowering their AP costs by 10%.
Attacks
Long Range:

Parachute Bombs (Spread) Fires six parachute bombs.
Special Attack

Parachute Bombs (Spread) Fires sixteen parachute bombs, upgraded to ? with

4 unlocked.
Health
Attribute
Resistance
Lvl

Kinetic
Normal
1
10000
11000
12100
13310
14641
10
15000
16500
18150
19965
21961

Explosive
Normal
20
20000
22000
24200
26620
29282
30
25000
27500
30250
33275
36602

Incendiary
Normal
40
30000
33000
36300
39930
43923
50
35000
38500
42350
46585
51243
* HP might be increased by skills / items or buffs
Ad blocker interference detected!
Wikia is a free-to-use site that makes money from advertising. We have a modified experience for viewers using ad blockers

Wikia is not accessible if you've made further modifications. Remove the custom ad blocker rule(s) and the page will load as expected.