This page relates to a Metal Slug Attack unit; for information about this creature in the main series, see Monoeye.
Monoeye
Rarity
Faction
Martians
AP cost
200
180
160
Optimal range
Long
Traits
Invulnerability
Debuff
Buff
Playable since
1.0.2
In-Game Description
"A 15m tall humanoid alien."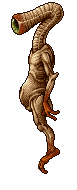 Monoeyes are Super Rare units appearing in Metal Slug Attack. Parts are currently available in the Guild Shop for 500 Guild Medals or on the occasional Event Crank.
Its main attack consists of firing streams of light energy balls against the enemy units. As its special, it fires more light energy balls. If

1 is unlocked, more attacks are performed while the Monoeye will also spin around enemies. It is invulnerable while in this state.
Standard Monoeyes can also buff their fellow Monoeyes on the field with

3.
While the Monoeye does not have a team bonus with its Dark counterpart, the Dark Monoeye can provide Monoeyes with an additional buff if it has learned

3.
Attacks
Short Range

Light Bullets (Spread) - Fires four streams of energy balls on the nearest enemy.
Long Range

Light Bullets (Spread) - Fires four streams of energy balls on the furthest enemy.
Special Attack

Rapid-Fire Light Bullets (Spread) - Fires nine streams of energy balls on the enemies. With

1 unlocked, Monoeye is able to spin around the enemies in an invulnerable state.
Health
Attribute
Resistance
Lvl

Kinetic
Normal
1
2000
2200
2420
2662
2928
10
3000
3300
3630
3993
4392

Explosive
Reduced
20
4000
4400
4840
5324
5856
30
5000
5500
6050
6655
7320

Incendiary
None
40
6000
6600
7260
7986
8784
50
7000
7700
8470
9317
10248
* HP might be increased by skills / items or buffs
Monoeyes Circle

Number of Special Attacks will increase. Strengthen Special attack power by 10% (+0.5% each level).

---

Strengthen Armor

HP will increase by (10%, +0.5% each level).

---

Monoeyes Union

Only the number of Monoeyes that have been produced.
Strengthen attack power of all Monoeyes by 5% (+0.5% each level).

---

Gravity Ray

Decreases the attack speed of enemy hit by Special Attack by 0.3 seconds (+0.035? seconds each level).

---
Ad blocker interference detected!
Wikia is a free-to-use site that makes money from advertising. We have a modified experience for viewers using ad blockers

Wikia is not accessible if you've made further modifications. Remove the custom ad blocker rule(s) and the page will load as expected.