Metal Slug Death Defense is a flash game of survival which your metal slug is destroyed except the cannon. This game is all about survival.
Survive on endless waves, fire to get weapon crates and gas.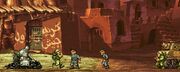 Weapon Abilities
Spacebar-Cannon - Infinite medium damage
1-Heavy Machinegun - Turret of the metal slug
2-Super Grenade - Extreme damage, one hit any enemies in the row
3-Laser - Elephant's laser based on Metal Slug 3 (movable)
4-Rocket - Just like cannon, but extreme damage
5-Flame Shot - Short range fiery weapon
External links
---
---
Ad blocker interference detected!
Wikia is a free-to-use site that makes money from advertising. We have a modified experience for viewers using ad blockers

Wikia is not accessible if you've made further modifications. Remove the custom ad blocker rule(s) and the page will load as expected.