Metal Slug 7 (メタルスラッグ 7) is a run and gun video game by SNK Playmore for the Nintendo DS in the Metal Slug series. It was announced in the September 2007 issue of Famitsu and marks the first game in the main series that was released directly on consoles without an arcade version. The game was released in Japan on July 22, 2008 and North America on November 28, 2008 by Ignition Entertainment.
A revised version of the game, titled Metal Slug XX (メタルスラッグ XX), was released on December 23, 2009 in Japan and North America on February 23, 2010 by Atlus for the PlayStation Portable. This version of the game features additional content, including co-op multiplayer and downloadable content. Metal Slug XX was also released on Xbox Live Arcade on May 19, 2010 and was made backwards compatible on Xbox One in 2016.
Story
Thanks to the reconstruction proceeding at a miraculous pace, the scars of destruction to the thoroughly destroyed headquarters of the Regular Army and it's surrounding city were becoming less and less noticeable to the objective observer.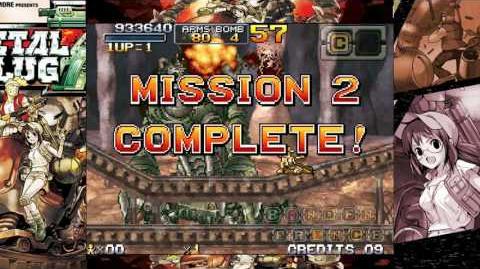 Just as people were beginning to recover a long-lost sense of vitality and order, a video transmission arrived at HQ from the Regular Army's Division of Intel. Discovered in a clip from a documentary on the waste disposal controversy was the brief flash of a figure appearing to be one of Morden's soldiers crossing the screen.
The Division of Intel had no doubts: this was indisputably a member of Morden's Forces. HQ swiftly organized a six-man covert strike force assigned with the following objectives: confirm the presence of Morden's Forces, and then eliminate them - with extreme prejudice! Marco, Tarma, Eri and Fio were quickly assembled as the initial members for this mission. Ralf and Clark, who had previously thrown in their lots with Marco and company, were also on board.
"Hey! Long time, no see. I guess it's up to me to put things right yet again!!!"
"Back to the front, eh? Aren't we just a bunch of peas in a pod?"
So began our heroes infiltration of Scrap Island, perhaps the final lair of Morden's Forces. And these forces were sharpening their swords, awaiting their arrival and preparing to pounce.
Characters
The game has the same set of characters in Metal Slug 6 with the same abilities as its predecessor:
Gameplay
There are seven levels and three difficulties: Beginner, Normal and Hard. Metal Slug 7 uses the Nintendo DS touchscreen as a map of the level, making it easier for the player to look at it and know where to get power ups or captured prisoners. The game also introduces the Prisoner's List menu and the return of the Combat School mode which was originally featured in the console versions of Metal Slug X.
New slugs
Three new vehicles make their debut on this game:
Slug Truck: A train-like machine that works in a similar way to the Metal Slug, except that the cannon must be connected to the unit to access it.
Slug Gigant: A giant robot capable of massive firepower. Its Wave Cannon can neutralize enemy fire with its melee attack.
Slug Armor: A LV Armor variant, it has both a vulcan and a cannon, and can slide at high speed. Unlike the LV Armor, the Slug Armor does not have the ability to exchange weapons, but features more resistance.
Soundtrack
The songs in the game are composed by Toshikazu Tanaka after his work in Metal Slug 5. An official soundtrack of the game, titled Metal Slug 7 Original Soundtrack ~iTunes Limited Edition~, was released on the iTunes Store in Japan on August 8 2008. A few tracks are remixed, such as "Assault Theme", "Final Attack", "Barracks", and a version of the Metal Slug 4 boss theme.
References
Screenshots
Covers
Ad blocker interference detected!
Wikia is a free-to-use site that makes money from advertising. We have a modified experience for viewers using ad blockers

Wikia is not accessible if you've made further modifications. Remove the custom ad blocker rule(s) and the page will load as expected.