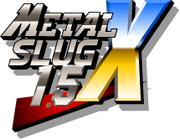 Metal Slug 1.5 (also called Metal Slug 1 Half) is a run and gun fan game for PC platform created by Superblinky. 
Metal Slug 1.5 retains the same gameplay as original titles, with the addition of some new enemies, bosses, but obviously with no professional software.
This game contain 6 mission for play with 5 playable characters incluying Marco, Tarma, Eri, Fio and a new comer Wario (From Super Mario Series). Also Incluyed 6 Crazy missions (No mercy) and some cheats will be avaliable after beat the game for first time.
Metal Slug 1.5 X
Metal Slug 1.5 X is the enhanced version of Metal Slug 1.5
Improvements like:
Configurable controls
Auto save
Record chart
Using your initials for Records
Girida-O better programmed
Iron Iso more slow
Melty Honey more avoidable
The enemies are no longer able to stall your character when they push
Improvements to all bosses!
Changed the way to handle the difficulty
Multiplayer
HUD enhanced
Links
Download Link: http://www.mediafire.com/download.php?qj8hihwrqala5rw
Unlockables
Wario: Beat all 6 missions in Crazy Mode.
Eri: Complete Mission 4.
Fio: Complete Mission 5.
Crazy Missions: Beat the game for first time.
Infinite Ammo: Beat the game for first time.
Infinite Credits: Beat the game for first time.
Ad blocker interference detected!
Wikia is a free-to-use site that makes money from advertising. We have a modified experience for viewers using ad blockers

Wikia is not accessible if you've made further modifications. Remove the custom ad blocker rule(s) and the page will load as expected.