This page relates to a Metal Slug Attack unit; for more information about this boss in the main series, see Metal Rear.
Metal Rear
Rarity
Faction
Ptolemaic Army
AP cost
800
720
640
Optimal range
Long
Traits
Critical
Playable since
1.0.2
In-Game Description
"This giant slug was created by the Ptolemaic Army, using data stolen from the Regular Army. It moves nimbly despite its gigantic size."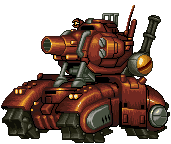 The Metal Rear is a giant slug created by the Ptolemaic Army, and is one of the Super-Rare units in Metal Slug Attack.
The Metal Rear is a somewhat expensive Ptolemaic unit, with a relatively fast movement speed. It makes up for it through its special attack, where it jumps back while firing large bullets at the enemy which have surprisingly good range. Through use of a decently leveled "Reload", the Metal Rear can avoid going to the front line, while throwing out large amounts of vulcan bullets.
Parts of the Metal Rear are obtainable on the elite level 14-5. Parts can also be obtained from the Box and Ptolemaic Army Event Crank.
Attack
Short Range

Giant Cannon (unlabelled), fires its massive cannon against its enemies dealing great damage, the fireball closely resembles that of Dragon Nosuke, Huge Hermit, etc.
Long Range

Heavy Vulcan It will fire its heavy vulcan dealing damage in a small area.
Special

Heavy Vulcan Strafe It jumps back away from its enemies, firing its heavy vulcan, which deal damage.
Chance of Critical (requires 3).
Fires more bullets with skill 4 Bullet Rain
Health
Attribute
Resistance
Lvl

Kinetic
Increased
1
16000
17600
19360
21296
23425
10
24000
26400
29040
31944
35138

Explosive
Normal
20
32000
35200
38720
42592
46851
30
40000
44000
48400
53240
58564

Incendiary
Normal
40
48000
52800
58080
63888
70276
50
56000
61600
67760
74536
81989
* HP might be increased by skills / items or buffs
Strengthen Weapon

Strengthen all attack power by (10%, +0.5% each level).

---

Super Scope

Long Range Attack's critical rate will become (20%, +0.7% each level).

---

Armor-Piercing Bullets

Special Attack's critical rate will become (20%, +0.7% each level).

---

Bullet Rain

Number of Special Attack will increase.
Strengthen Special Attack power by (20%, +1% each level).

---
Ad blocker interference detected!
Wikia is a free-to-use site that makes money from advertising. We have a modified experience for viewers using ad blockers

Wikia is not accessible if you've made further modifications. Remove the custom ad blocker rule(s) and the page will load as expected.