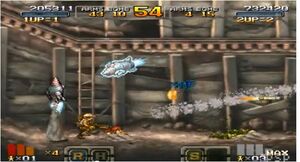 The Metal Mole is a special kind of drone present in Metal Slug 7.
Information
This remotely controlled missile drone has a drill attached on its front to dig underground, creating a path of mud and then going to the surface, where he tracks his target and fly towards it to explode.
If a character steps in the mud created by the Metal Mole, it will get "moled", as he/she will sink into the ground and unable to move. To get out of the mud, the player must shake the directional or mash the buttons rapidly.
Trivia
Ad blocker interference detected!
Wikia is a free-to-use site that makes money from advertising. We have a modified experience for viewers using ad blockers

Wikia is not accessible if you've made further modifications. Remove the custom ad blocker rule(s) and the page will load as expected.