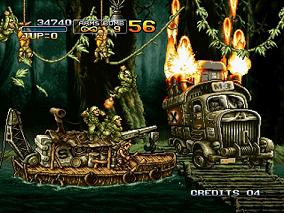 The M-3 Rocket Launch Support Van or shortly known as the Parachuetruck is a large van used by the Rebel Army. It is equipped with several launchers above it that can be used to launch almost anything that can fit inside.
Information
The M-3 Van is used to bombard an area with several volley-bombs, and then are able to deploy Rebel soldiers by launching them with the launchers above it. They then drop down to mop up any remains of the area after being devastated by its rocket barrage.
How to defeat it
The M-3 is a very well armored wall-weapon. As it is very hard to destroy with a pistol, a Heavy Machine Gun can do the work with ease. Also, the rockets that are falling down do not fall at a fast speed, thus it can be shot. The easiest wasy to destroy it is to just throw grenades, which can be deadly to this vehicle.
Trivia
---
---
Ad blocker interference detected!
Wikia is a free-to-use site that makes money from advertising. We have a modified experience for viewers using ad blockers

Wikia is not accessible if you've made further modifications. Remove the custom ad blocker rule(s) and the page will load as expected.