---
---
Kraken
Rarity
Faction
Rebel Army
AP cost
2,000
1,800
1,600
Optimal range
Long
Traits
Counter
Knockback
Playable since
1.10.0
In-Game Description
"This ultimate weapon was brought by Morden's Armies from the future."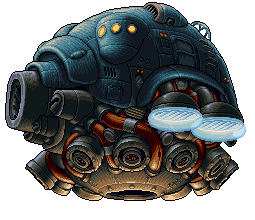 The Kraken is a playable unit in Metal Slug Attack, first appearing in the Extra Ops "Black Future". Parts could be obtained by participating in the event. As this Extra Ops has ended, its parts are currently available through Another Story, through the Alien's second chapter "For You".
The Kraken also appears as the boss on Attack! on Friday (or Thursday in lagging zones).
It is an expensive, but extremely durable air unit, especially with

4, which boosts its health greatly. The Kraken's most notable feature is its special attack, where it drops lava projectiles on top of enemies. All types of enemies will be hit by these projectiles, and they are also capable of damaging the enemy base. After performing its special attack, it flies back to the player base, much like The Keesi III. Like Augensterm Ver(P.M) or Crazy Ralf, any attack that would cause it to be knocked back is instead countered.
The Amadeus Hi-Do can be considered a cheaper version of the Kraken.
When placed in a deck with the Crablops, they form the "Seventh Rebellion" team, lowering their AP costs by 10%.
Attacks
Close Range

Future Grenades (Spread) - Flies above enemy positions and drops large, futuristic grenades on top of the enemy.
Long Range

Satellite Ammo (Spread) - Materializes eight futuristic projectiles and launches them at the enemy. Can knockback via

1.
Special

Lava Ammo (Spread) - Flies up, dropping lava ammo on top of enemies. Returns to player base upon finishing this attack.
Counter

Cannon (Spread) - If an attack would cause the Kraken to be knocked back, it will fire one cannon shell at a 45 degree angle, which will reflect upwards after hitting the ground.
Health
Attribute
Resistance
Lvl

Kinetic
Normal
1
45000
49500
54450
59895
65884
10
67500
74250
81675
89842
98826

Explosive
Normal
20
90000
99000
108900
119790
131769
30
112500
123750
136125
149737
164711

Incendiary
Normal
40
135000
148500
163350
179685
197653
50
157500
173250
190575
209632
230595
* HP might be increased by skills / items or buffs
Trivia
The Kraken is currently the only Extra Ops boss that requires an item from another Extra Ops boss for full completion (in this case, it is the Pharaoh Box from the Mummy's Extra Ops).
The team "Seventh Rebellion" is a reference to the seventh game.
Ad blocker interference detected!
Wikia is a free-to-use site that makes money from advertising. We have a modified experience for viewers using ad blockers

Wikia is not accessible if you've made further modifications. Remove the custom ad blocker rule(s) and the page will load as expected.