This page relates to a Metal Slug Attack unit; for information about this boss in the main series, see Jupiter King.
Jupiter King
Rarity
Faction
Rebel Army
AP cost
1,000
900
800
Optimal range
Medium
Traits
Stun
Debuff
Playable since
In-Game Description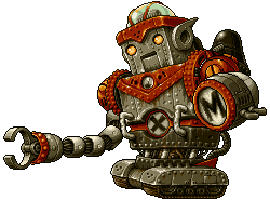 The Jupiter King is a playable unit in Metal Slug Attack. Players can obtain the parts through Elite 10-4 (where it serves as the boss of that level), or through the Event Crank. For beginning players, the Jupiter King is obtainable after logging in for 7 days.
The Jupiter King is a well-rounded unit, being significantly better than its MK II and mini counterparts. The Jupiter Queen is better than the Jupiter King, due to utilizing its special attack as a standard attack.
The Jupiter King's special is rather powerful, dealing high damage in a raking pattern and is capable of stunning with

4 unlocked. It is faster than its other attacks and should be used when possible.
When placed in a deck with its mini and MK II variants, they form the "Jupiter King" team, increasing their HP by 10%.
Attacks
Short Range

Drop a missile (not labeled as such) - Grabs a missile from its "belly button" and drops it in front of the machine. Also emits fireballs.
Long Range

Missile - Opens its right arm to reveal seven smaller missiles ready for launch. Shoots them in a 2-3-2 pattern.
Special
Laser - Its eyes glow and emit a laser, shooting it in a raking pattern at enemies in front of it. Has stun capability with

4 unlocked.
Health
Attribute
Resistance
Lvl

Kinetic
Increased
1
20000
22000
24200
26620
29282
10
30000
33000
36300
39930
43923

Explosive
Increased
20
40000
44000
48400
53240
58564
30
50000
55000
60500
66550
73205

Incendiary
Normal
40
60000
66000
72600
79860
87846
50
70000
77000
84700
93170
102487
* HP might be increased by skills / items or buffs
Strengthen Armor

HP will increase by 10% (+0.5% each level).

---

Strengthen Weapon

Strengthen all attack power by 10% (+0.5% each level).

---

Destroy Weapon

Reduces attack power by 10% (+0.5% each level) of all enemies hit by Special Attack.

---

Excess Current

When a Special Attack hits, there is a 10% (+0.5% each level) chance that the enemy will be stunned.

---
Ad blocker interference detected!
Wikia is a free-to-use site that makes money from advertising. We have a modified experience for viewers using ad blockers

Wikia is not accessible if you've made further modifications. Remove the custom ad blocker rule(s) and the page will load as expected.