---
---
This page relates to a Metal Slug Attack unit; for information about this boss in the main series, see Big John.
Jade John
Rarity
Faction
Independent
AP cost
700
630
560
Optimal range
Long
Traits
Homing
Critical
Playable since
2.4.0
In-Game Description
"This Big John has been developed with extremely harsh environments in mind. Because of its more sinister appearance, it has been improved to perform even more powerful attacks."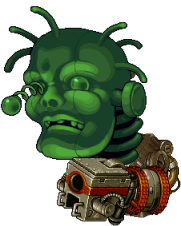 The Jade John is a playable unit in Metal Slug Attack, first appearing the Extra Ops titled "Green Monster".
A recolored version of Big John, Jade John is built the same way as his original incarnation; through the Miner. It costs slightly more than Big John. It is similar to its original counterpart, shooting missiles at the enemy and launching canisters at enemies near it. As such, it is built near the player's base to launch missiles, as its' short range attack is extremely weak. Jade John has impressive attack range, which can be improved even further with

2.
As its special, Jade John reveals a mechanical claw, though it does not fire energy projectiles at the player. Rather, the claw will follow the nearest enemy unit before smashing down to crush them. The claw deals decent damage (two hits) and functions in a manner similar to Yoshino's special; they can block physical projectiles, but will not protect against suicide attacks and lasers. The damage is also only applied as the claw comes crashing down on enemies. Jade John will deploy three claws at a time with

4 unlocked.
If Jade John is killed while performing the special, it will still continue - however, it will only use the claws that it managed to bring up before being destroyed.
As such, it is very effective against dealing with back-line units, provided that

4 is unlocked, as the remaining two claws will trail will advance ahead of the lead claw (the first enemy unit that it can be applied to). Most of the time, surprise units won't appear in front of your frontline, so the claws won't be distracted as easily, especially if paired with good blockers.
When placed in a deck with the Green Hazmat Soldier, they form the "Green Monster" team, lowering their AP costs by 10%.
Attacks
Short Range

Virus Bubbles - Deploys five flying containers that hold a liquid virus, which are dropped on enemies below them.
Long Range

Missile (Single) - Shoots out a missile from its missile turret. Fires an extra missile with

3.
Special

Wire Unit (Spread) - A claw appears from above, homing in on the nearest enemy unit(s) before smashing them. Three claws appear with

4.
Health
Attribute
Resistance
Lvl

Kinetic
Normal
1
24000
26400
29040
31944
35138
10
36000
39600
43560
47916
52707

Explosive
Normal
20
48000
52800
58080
63888
70276
30
60000
66000
72600
79860
87846

Incendiary
Increased
40
72000
79200
87120
95832
105415
50
84000
92400
101640
111804
122984
* HP might be increased by skills / items or buffs
Videos
Ad blocker interference detected!
Wikia is a free-to-use site that makes money from advertising. We have a modified experience for viewers using ad blockers

Wikia is not accessible if you've made further modifications. Remove the custom ad blocker rule(s) and the page will load as expected.