This page relates to a Metal Slug Attack unit; for information about this boss in the main series, see Iron Sentinel.
Iron Sentinel
Rarity
Faction
Rebel Army
AP cost
900
810
720
Optimal range
Long
Traits
Critical
Second Form
Playable since
1.8.0
In-Game Description
"This ultra-giant size missile tank was created in cooperation with Mars People. Gen. Morden himself is aboard."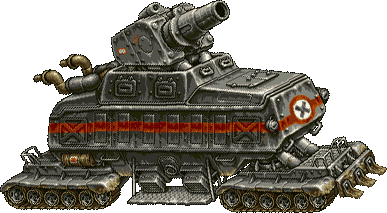 The Iron Sentinel a playable unit in Metal Slug Attack. It is one of the most difficult units to unlock, as parts are only available for purchase via the Mars Shop.
As Mars Currency can only be obtained by trading in platinum evolved units, it's generally easiest to obtain it by gathering Rare unit parts from the MSP crank. Once all the crank units have been fully evolved, every additional ~2.43 million MSP spent on 10x pulls will average enough Mars Points for a Sentinel part - and so a platinum Sentinel (or Rootmars Slug) can be obtained for about 800 million MSP (minus however many additional points are earned from events and other cranks).
The Sentinel itself is a very large multi-treaded tank that shoots missiles and projectiles from its ball turret. If

4 is unlocked, when first destroyed, it will switch to a secondary form that shoots even larger missiles with a wide area of effect and a higher damage output.
It has fairly high health for a backline unit, and its large size and long range missiles makes it a formidable foe to fight, especially when buffed. The 2.13.0 update doubled its base health and long range damage, increased its special damage by 20% per shot, and additionally had its special fire extra shots.
Attacks
Long Range

Missile (Spread) - Launches a salvo of missiles from its side. If in second form, shoots out very large missiles.
Special

Big Missile (Spread) - Fires larger missiles from its main turret, and bombs from its side.
Health
Attribute
Resistance
Lvl

Kinetic
Increased
1
40000
44000
48400
53240
58564
10
60000
66000
72600
79860
87846

Explosive
Increased
20
80000
88000
96800
106480
117128
30
100000
110000
121000
133100
146410

Incendiary
Normal
40
120000
132000
145200
159720
175692
50
140000
154000
169400
186340
204974
* HP might be increased by skills / items or buffs
Items
The Iron Sentinel uses a selection of unique items unavailable to any other units. Like the parts for the Sentinel itself, these can only be obtained via the Mars Shop (or fused using other items from the same).
Icon
Name
Stat Effects
Components
Rebar


Production +5
Movement +0.05
Load +5

×
300
Morden
Symbol

HP +500
Resist +5
[Far][Special] Distance +5

×
300
Mars
Energy

Production +15
Movement +0.10
Load +10

×
5,000
Battery

HP +1,000
Resist +10
[Far][Special] Distance +10

x50:

×
Missile

Production +30
Movement +0.15
Load +15

×
50,000
Big
Missile

HP +1,500
Resist +15
[Far][Special] Distance +15

x30: x3:

×
Strengthen Weapons

Strengthen all attack power by (20%, +1% each level).

---

All-Around Armor

HP will increase by (20%, +1% each level).

---

Equip Anti-Armor

Critical rate for all attacks will become (10%, +0.5% each level).

---

FORM CHANGE

Even if beaten once, gets back to life and turns in 2nd form via HP (20%, +1.6% each level).

---
Purchase Cost
In order to obtain parts for the Iron Sentinel, surplus parts from platinum-framed units must be traded in at the Mars Shop:
1,000 points are required per Sentinel part. Hence:
1,000x Unit Parts (Normal) grants one Sentinel part.
100x Unit Parts (Rare) grants one Sentinel part.
25x Unit Parts (Super Rare) grants one Sentinel part.
Building on that:
80,000x (Normal parts), 8,000x (Rare parts), or 2,000x (Super Rare parts) grants a silver Sentinel.
180,000x (Normal parts), 18,000x (Rare parts), or 4,500x (Super Rare parts) grants a gold Sentinel.
330,000x (Normal parts), 33,000x (Rare parts), or 8,250x (Super Rare parts) grants a platinum Sentinel.
Furthermore, various items for the Sentinel must also be purchased using Mars Points:
900x (Normal parts), 90x (Rare parts), or 23x (Super Rare parts) grants the first skill.
6,500x (Normal parts), 650x (Rare parts), or 163x (Super Rare parts) grants the second skill.
71,500x (Normal parts), 7,150x (Rare parts), or 1,788x (Super Rare parts) grants the third skill.
221,500x (Normal parts), 22,150x (Rare parts), or 5538x (Super Rare parts) grants the fourth skill.
1,121,500x (Normal parts), 112,150x (Rare parts), or 28,038x (Super Rare parts) fills the fifth panel set.
1,451,500 Mars Points are required to fully evolve and equip an Iron Sentinel (or 36,288 Super Rare unit parts). On the other hand, a silver Sentinel with only the first four skill panels unlocked costs a relatively low 80,000 + 221,500 = 301,500 Points (7,538 SR parts).
One can easily gain massive amounts of the items by hoarding up Battle/Guild Medals and Gold Bars from Battles, Guilds and P.O.W. Rescue. From the respective shops, buy only Super Rare unit parts (e.g Stone Turtle, Leona, etc.), as they provide the best ratio for Iron Sentinel parts compared to Rare and Normal rarity units. It is even better to purchase the Super Rare unit parts during a discount event, where the items are sold at 30% off their original price (so the parts would cost 350 of their respective currency). Since waiting for the stores to restock by themselves is unnecessary, it is best to continually refresh the stores' stocks and purchase Super Rare unit parts.
Trivia
The Iron Sentinel is instead referred to as the "Iron Slider" within Metal Slug Attack's code. Its sprite sheet portrays the original Slider from Metal Slug 6, angled downhill - the game rotates its images to a levelled orientation at run-time.
The Iron Sentinel was buffed as of the 2.13.0 update, following player complaints about how weak it was for the time it took to use it properly.
Ad blocker interference detected!
Wikia is a free-to-use site that makes money from advertising. We have a modified experience for viewers using ad blockers

Wikia is not accessible if you've made further modifications. Remove the custom ad blocker rule(s) and the page will load as expected.