---
---
This page relates to a Metal Slug Attack unit; for information about this boss in the main series, see Walking Locomotive.
Iron Cab
Rarity
Faction
Rebel Army
AP cost
1,200
1,080
960
Optimal range
Long
Traits
Pierce
Playable since
1.19.0
In-Game Description
"A hard-to-spot armored train that is responsible for the supply line of the Rebel Army. Equipped with feet on which to stand and walk, it can be operated on many types of terrain."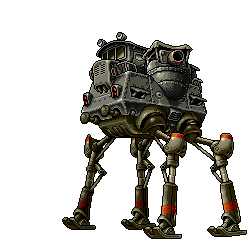 The Iron Cab is a playable unit in Metal Slug Attack, first appearing in the Extra Ops titled "Crazy Drive". As this event has ended, its parts and items are currently unavailable.
The Iron Cab appears as a smaller version of the Walking Locomotive's caboose, which was encountered in full during Metal Slug 6. It fires missiles at the enemy from long range, while its special activates a hidden laser beam to shoot at enemies (based on Tetsuyuki's). The damage is low, but is consistent through all enemies (unlike Abigail's special, which does less damage to each target struck). It is a perfect end-game unit should the game still be in a stalemate, but only if the player does not have the Spacey Nokana.
When placed in a deck with the Eaca-B, they form the "Crazy Drive" team, lowering their AP costs by 10%.
Attacks
Long Range

Missile (Single) - Launches numerous missiles at the enemy from its missile pod.
Special

Laser (Spread) - Reveals a laser turret from its bottom, which fires a large, penetrating beam.
Health
Attribute
Resistance
Lvl

Kinetic
Increased
1
20000
22000
24200
26620
29282
10
30000
33000
36300
39930
43923

Explosive
Increased
20
40000
44000
48400
53240
58564
30
50000
55000
60500
66550
73205

Incendiary
Increased
40
60000
66000
72600
79860
87846
50
70000
77000
84700
93170
102487
* HP might be increased by skills / items or buffs
Ad blocker interference detected!
Wikia is a free-to-use site that makes money from advertising. We have a modified experience for viewers using ad blockers

Wikia is not accessible if you've made further modifications. Remove the custom ad blocker rule(s) and the page will load as expected.