---
---
This page relates to a Metal Slug Attack unit; for information about this creature in the main series, see Huge Hermit.
Huge Hermit
Rarity
Faction
Independent
AP cost



Optimal range
Short
Traits
Rush
Partial Stun Immunity
Playable since
?
In-Game Description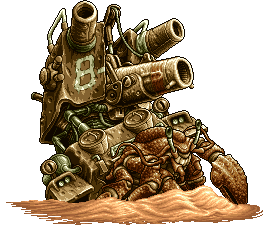 The Huge Hermit is a playable unit in Metal Slug Attack, first appearing in the Extra Ops "Mutation War".
It attacks by simply lunging its claws at the enemy. Like its other counterparts, stuns partially work against the Huge Hermit; they can lock it in place, but it will still be able to attack enemies near it.
When placed in a deck with its miniaturized version, they form the "Rush Recklessly" team, lowering their AP costs by 10%.
Attacks
Stats
Videos
Ad blocker interference detected!
Wikia is a free-to-use site that makes money from advertising. We have a modified experience for viewers using ad blockers

Wikia is not accessible if you've made further modifications. Remove the custom ad blocker rule(s) and the page will load as expected.