This page relates to a Metal Slug Attack unit; for more information about this boss in the main series, see Hozmi.
Hodumi+
Rarity
Faction
Rebel Army
AP cost
1,200
1,080
960
Optimal range
Medium
Traits
Stun
Homing
Aerial
Playable since
2.6.0
In-Game Description
"This is the rebel army's "Hodumi" submarine. In order to keep up with the expanding combat theater on land, the powerful Hodumi has been modified for ground-based combat. It also benefited from adjustments to its main cannon, the Andro-cannon."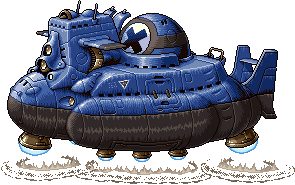 The Hodumi+ is a playable unit in Metal Slug Attack, first appearing in the Extra Ops titled "Maximum Evolution".
An airborne variant of the Hozmi, the Hodumi+ hovers at roughly the same height as the Hi-Do, preventing low-firing units such as Beatriz from damaging it.
It sends out homing energy balls as its standard attack, or its Andro Cannon as a special. The cannon fires in a similar manner to Cleopatra's special (unlike the straight-firing version used by the Tani Oh). However, it is much slower, and is prone to miss as it homes in on the nearest enemy unit, which can cause the special to fly off and miss its desired target(s).
It can, however, deal massive damage if it hits the right units. All attacks also have the potential to stun the enemy with

1 unlocked.
When placed in a deck with the Flying Tara+, they form the "Remodeling Weapons" team, lowering their AP costs by 10%.
Attacks
Long Range

Energy Ball (Spread) - Flips open a hatch to shoot out five energy balls at the nearest enemies. May stun with

1 unlocked (regardless of the skill description).
Special

Andro Cannon+ (Spread) - A cannon pokes out and sends out two blasts of energy at the sky, which fall down onto the nearest enemy unit. May stun with

1 unlocked.
Health
Attribute
Resistance
Lvl

Kinetic
Normal
1
25000
27500
30250
33275
36602
10
37500
41250
45375
49912
54903

Explosive
Normal
20
50000
55000
60500
66550
73205
30
62500
68750
75625
83187
91506

Incendiary
Increased
40
75000
82500
90750
99825
109807
50
87500
96250
105875
116462
128108
* HP might be increased by skills / items or buffs
Suppression Warhead

When a Special Attack hits, there is a (10%, +?% each level) chance that the enemy will be stunned.

---

All-Around Armor

HP will increase by (20%, +1?% each level).

---

Strengthen Weapons

Strengthen all attack power by (20%, +1?% each level).

---

Andro Cannon+

Strengthen Special Attack power by (10%, +?% each level).

---
Videos
Ad blocker interference detected!
Wikia is a free-to-use site that makes money from advertising. We have a modified experience for viewers using ad blockers

Wikia is not accessible if you've made further modifications. Remove the custom ad blocker rule(s) and the page will load as expected.