Gunforce II (Geo Storm in Japan) is a run and gun video game developed and published by Irem Corporation in 1994 for arcades. It was Irem's last arcade game.
This game was created by the same staff which would later form Nazca and is considered the spiritual predecessor to the Metal Slug series.
Gameplay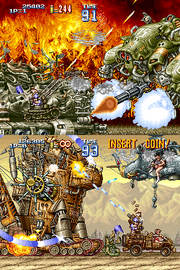 Gunforce II plays much like other run and guns, where you control your character and must move through the stage while shooting down enemies. The character uses two guns at the same time, which fire at different angles each. You can pick up special weapons with limited ammo, which will replace one of the guns. Scattered along the stages are many vehicles, eleven in total, which the player can ride and use against the enemy forces. However, most of them don't provide protection for the player. Along the way the player will also find female hostages which can be rescued, though they only serve to add to the player's score at the end of a stage.
Trivia
Some of the music in this game are remixed tracks from Air Duel, another Irem game;
Many of the sound effects used in Gunforce II were reused in Metal Slug, such as weapon samples and enemy voices;
Gunforce II and Metal Slug feature a very similar graphical design, right down to small details such as explosions and shrapnel;
It is possible that Metal Slug was originally intended to be a sequel to Gunforce II, given the similarities between the two games.
Flyers and covers
Ad blocker interference detected!
Wikia is a free-to-use site that makes money from advertising. We have a modified experience for viewers using ad blockers

Wikia is not accessible if you've made further modifications. Remove the custom ad blocker rule(s) and the page will load as expected.