This page relates to a Metal Slug Attack unit; for information about this boss in the main series, see Big Shiee.
Ghost Shiee
Rarity
Faction
Independent
AP cost
1,400
1,260
1,120
Optimal range
Short
Traits
Evasion
High Damage
Pierce
Playable since
2.2.0
In-Game Description
"An enormous battleship that sank during the battle against the Regular Army and went missing.The silhouette discovered as pirate soldiers' mother ship, creates an eerie atmosphere while keeping its past look."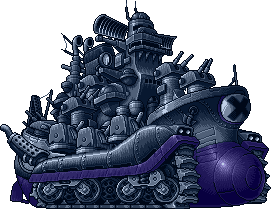 The Ghost Shiee is the ghostly version of the Big Shiee that was sunk at the end of the Extra Ops titled "Pirates Attack". It resurfaced during "Pirate's Ghost", where players could obtain its parts.
Compared to the original Big Shiee, the Ghostly version costs significantly more AP, as it moves faster, has more powerful standard attacks and has, a slight increase in health, and also gains health with evolved frames, something the original version lacks. Without

4, the Ghost Shiee is essentially an inferior version, as it's special does less damage (a base of 7,260 compared to 10,000). With it, the Ghost Shiee will fire a second shell for more damage, though its high knockback means that some units may get mercy invincibility and avoid it. Unlike most boss units, the Ghost Shiee also has evasion with

3, though it will not trigger if in the process of using its special attack. However, the Ghost Shiee is incapable of being buffed (apart from the affiliation bonus if running an Independent only deck).
Much like the original model, the Ghost Shiee excels at taking out extremely durable units. Having Rumi Aikawa or "Reload" helps the Ghost Shiee destroy units even faster with its special attack.
When placed in a deck with the Ghost Pirate Soldier, they form the "Pirates Ghost" team, lowering their AP costs by 10%.
Attacks
Close Range

Secondary Battery (Spread) - Peppers the area with its secondary battery, damaging any enemy units in the way.
Special

Main Battery (Spread) - A single cannon shot from its main battery, dealing massive damage and with a wide AoE. Fires twice with

4 unlocked. Even if the Ghost Shiee reaches 0 health while performing this attack, it will finish it before exploding.
Health
Attribute
Resistance
Lvl

Kinetic
Normal
1
22000
24200
26620
29282
32210
10
33000
36300
39930
43923
48315

Explosive
Increased
20
44000
48400
53240
58564
64420
30
55000
60500
66550
73205
80525

Incendiary
Reduced
40
66000
72600
79860
87846
96630
50
77000
84700
93170
102487
112735
* HP might be increased by skills / items or buffs
All-Around Armor

HP will increase by 20.0% (+1% each level).

---

Strengthen Weapons

Strengthen all attack power by 20.0% (+1% each level)

---

Ghost Ship

5.0% (+?% each level) chance to evade enemy attack.

---

Main Battery Rapid-fire

Number of Special Attacks will increase.
Strengthen Special Attack power by 10.0% (+0.5% each level).

---
Videos
Ad blocker interference detected!
Wikia is a free-to-use site that makes money from advertising. We have a modified experience for viewers using ad blockers

Wikia is not accessible if you've made further modifications. Remove the custom ad blocker rule(s) and the page will load as expected.