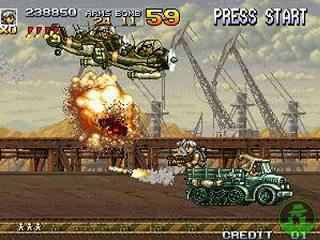 The Flying Tara is a rebel bomber airplane in Metal Slug.
Information
A secondary airplane used by the Rebel's air force, the Flying Tara is mostly a variant of the Eaca-B, with better armament and maneuverability. They only carry a single heavy bomb with them, after throwing it, they fly to the background, and then return with another bomb (Metal Slug 1 only). But in other games, they shoot the same missiles as the Eaca-B.
Upgrades and variants


Ptolemaic variant: It doesn't use a propeller, has more speed but less weapons and armor. Only appears for a short time in the mission 5 of Metal slug 5.
Trivia
They're based on 2 WWII fighters: on the American Grumman TBM Avenger torpedo bomber and the Grumman F6F Hellcat. And has the turrets from a Boeing B-17 bomber.
The Ptolematic variant was based on the Bell P-59 Airacomet.
In Metal Slug Defense, the Ptolematic Variant is called the 'Flying Tara VER.P.M.'

Its bombs are hidden in the body, and are more sleeker than the usual variant.
Ad blocker interference detected!
Wikia is a free-to-use site that makes money from advertising. We have a modified experience for viewers using ad blockers

Wikia is not accessible if you've made further modifications. Remove the custom ad blocker rule(s) and the page will load as expected.