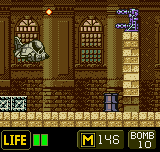 Fatal Express is the seventh mission of Metal Slug: 2nd Mission. One prisoner exists in this mission.
Mission Synopsis
After restoring signal, Gimlet is given orders to fly towards the designated location. Red Eye is given orders to fly to a checkpoint to share some information found by IHQ. Both characters use a Slug Flyer to fly over a forest and through a Rebel building. If their Slug Flyer is destroyed, then the mission prematurely ends and is considered Incomplete.
Pre-mission Calls
Gimlet
| | |
| --- | --- |
| | Current location verified… Use the Slug Flyer… And move to the point we have designated. |
| | Roger! |
Red Eye
| | |
| --- | --- |
| | Well? Do you copy? I decided to do some sabotage. Have you got any new info? |
| | Guessing from info gathered here, the rebels have somehow… made contact with alien life forms it seems. I'm sending details now. Then go to the checkpoint and give it to PF Squad. |
| | Give info to PF Squad? Oh well… Info should be shared, I guess. |
| | The Slug Flyer is ready for you to travel with. Be careful and Godspeed! |
| | Roger! |
Routes
Mission Incomplete: Proceeds to Mission 9 (Shot Down).
Gimlet's Mission Complete: Proceeds to Mission 16 (Intelligence).
Red Eye's Mission Complete: Proceeds to Mission 17 (Contact).
Prisoner
Ad blocker interference detected!
Wikia is a free-to-use site that makes money from advertising. We have a modified experience for viewers using ad blockers

Wikia is not accessible if you've made further modifications. Remove the custom ad blocker rule(s) and the page will load as expected.