This page relates to a pair of Metal Slug Attack units; for information about these bosses in the main series, see Emain Macha.
Emain Macha
Rarity
Faction
Rebel Army
AP cost
900
810
720
Optimal range
Short
Traits
Second Form
Playable since
1.14.1
In-Game Description
"Tanks constructed by 2 tanks.
They Are also called "TWINS"."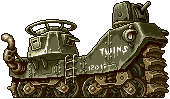 The Emain Macha are playable units in Metal Slug Attack, first appearing in Metal Slug Advance, though they made an appearance in Metal Slug Attack in the Extra Ops "Halloween Train".
It also appears as the boss on Attack! every Thursday (Wednesday in lagging zones). This version of the Emain Macha is capable of landing critical hits.
Initially appearing as the green Emain Macha, the red one does not appear until

1 is unlocked, where the red one appears with 20% of the green Emain Macha's health (which increases as the skill is invested into). The green one is slower, while the red one is much faster.
When placed in a deck with Vatn and the Subway, they form the "Halloween Train" team, lowering their AP costs by 15%.
Attacks
Close Range

Charge (Spread) - Runs over enemies with its tank treads.
Long Range

Cannon (Spread) - shoots 1 projectile from its cannon.
Special

Cannon (Spread) - shoots 3 projectiles from its cannon with increasing range.
4 - Moves forward while shooting.
Health
Attribute
Resistance
Lvl

Kinetic
Normal
1
25000
27500
30250
33275
36602
10
37500
41250
45375
49912
54903

Explosive
Normal
20
50000
55000
60500
66550
73205
30
62500
68750
75625
83187
91506

Incendiary
Normal
40
75000
82500
90750
99825
109807
50
87500
96250
105875
116462
128108
* HP might be increased by skills / items or buffs
TWINS

After being beaten once, gets back to life and turns into 2nd form with 20% (+1.6% each level) HP.

---

All-around Armor

HP will increase by 20% (+1% each level).

---

Strengthen Weapons

Strengthen all attack power by 20% (+1% each level).

---

Rushing Bombardment

Area of Special Attack will increase.
Strengthen Special Attack power by 10% (+0.5% each level).

---
Ad blocker interference detected!
Wikia is a free-to-use site that makes money from advertising. We have a modified experience for viewers using ad blockers

Wikia is not accessible if you've made further modifications. Remove the custom ad blocker rule(s) and the page will load as expected.