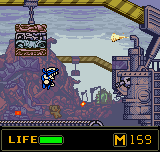 The Electromagnetic Crane is a boss found in Metal Slug: 1st Mission. It is fought in Mission 12 (Weapons Dump).
Boss Synopsis
The contraption has a cannon in the front that fires continuously. Its secondary attack is using its crane to bring a box of junk and attempt to drop it on the Hero (leading to a crush death if successful). Sometimes, the crane drops a weapon extension or a food can. The Hero also has to keep their footing on the left-moving conveyor belt. Once the Electromagnetic Crane is destroyed, the Rebel inside of it dies of overheating.
Ad blocker interference detected!
Wikia is a free-to-use site that makes money from advertising. We have a modified experience for viewers using ad blockers

Wikia is not accessible if you've made further modifications. Remove the custom ad blocker rule(s) and the page will load as expected.