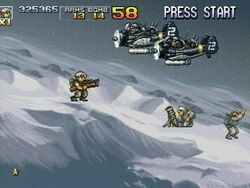 The Eaca-B is the rebellion's main fighter bomber in the Metal Slug series
Information
The Eaca-B is an air-to-ground fighter used by the Rebel Army, making most of their air force along with the Flying Tara. Fast and versatile, they are weak against anti-aerial fire. They carry self-propelled-heat-seeking bombs which serves as their main firepower, but in the last mission of Metal Slug 3, they fires semi-homing missiles to the player, but in Metal Slug 2/X final mission while they battle mini UFOs they are shown using their machine guns.
Trivia
In the second mission of Metal Slug 6, if you don't kill the gray Mars People, an Eaca-B will appear.
They have machine guns on the wings and a turret but never were shown used, except when dogfighting Martians in the background during the Martians' betrayal.
In Metal Slug Attack appears again in Extra Ops "Crazy Drive"
Ad blocker interference detected!
Wikia is a free-to-use site that makes money from advertising. We have a modified experience for viewers using ad blockers

Wikia is not accessible if you've made further modifications. Remove the custom ad blocker rule(s) and the page will load as expected.