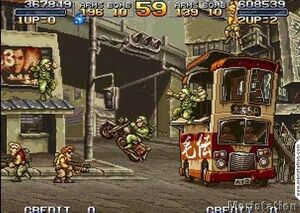 The Double-Decker Bus is a civilian vehicle that was captured and repurposed by the Rebel Army.
Information
The Double-decker Bus is a regular bus from Hong Kong and used as a roadblock due to its size. As such, there is no way of going over it until it is destroyed. The Rebels modified the upper portion of the bus to allow troops to pass through and use it as an attacking point.
Trivia
The two Chinese characters on either side of the bus when spelled in Japanese (in Kanji) is the Japanese name of General Morden. They are also found elsewhere on advertisement signs in other missions.
Ad blocker interference detected!
Wikia is a free-to-use site that makes money from advertising. We have a modified experience for viewers using ad blockers

Wikia is not accessible if you've made further modifications. Remove the custom ad blocker rule(s) and the page will load as expected.