This page relates to a Metal Slug Attack unit; for information about this vehicle in the main series, see Di-Cokka.
Di-Cokka
Rarity
Faction
Rebel Army
AP cost
150
146
142
138
134
Optimal range
Long
Traits
Suicide Attack
Playable since
1.0.2
In-Game Description
"A large tank with heavier armor than the Girida-O."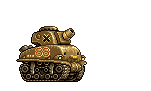 The Di-Cokka is a unit which often appears within stages of Metal Slug Attack. Cheap and heavily-armored, it is effective against wiping out groups of weaker enemies.
If destroyed after

2 is unlocked, the tank's hatch will open and a soldier will pop out to fire a single rocket (before exiting the exploding vehicle and fleeing). Enemy units cannot progress past the Di-Cokka until this animation has completed.
Attacks
Long Range

H-Cannon: A single cannon shot.
Special Attack

3-Shot H-Cannon : A rapid fire attack; fires five times with

4 unlocked.
Health
Attribute
Resistance
Lvl

Kinetic
Increased
1
2000
2200
2420
2662
2928
10
3000
3300
3630
3993
4392

Explosive
Normal
20
4000
4400
4840
5324
5856
30
5000
5500
6050
6655
7320

Incendiary
Normal
40
6000
6600
7260
7986
8784
50
7000
7700
8470
9317
10248
* HP might be increased by skills / items or buffs
Strengthen Weapon

Strengthen all attack power by (10%, +0.5% each level).

---

Last Resort

Performs an attack when destroyed.
Strengthen power of dying attack by (10%, +0.5% each level).

---

Strengthen Armor

HP will increase by (10%, +0.5% each level).

---

Main Cannon (5 Shot)

Number of Special Attacks will increase.
Strengthen Special Attack power by (10%, +0.5% each level).

---
Ad blocker interference detected!
Wikia is a free-to-use site that makes money from advertising. We have a modified experience for viewers using ad blockers

Wikia is not accessible if you've made further modifications. Remove the custom ad blocker rule(s) and the page will load as expected.