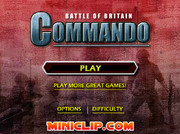 The Commando series is a Metal Slug-style run and gun Flash game by Miniclip. The game takes place during World War II. The player can choose between two different characters, a male or a female, both nameless. Three games on the series have been released so far, sharing many counterparts to Metal Slug.
Comparison with Metal Slug
Similarities
Commando has a weapon change system like that of Metal Slug 6 and 7 / XX.The graphic style is also very similar. It also features a bonus system like Metal Slug 4. Also, the bosses in Commando borrow some design elements from the Metal Slug bosses.
Differences
It differs from the Metal Slug series by introducing a health bar, as well as letting the player choose weapons before playing (in the previous game; however, weapons are only equipped as each level is played).
Background
These games take place during World War II.  Commando 2 is set in Asia, featuring the Imperial Japanese Army as enemies. Many Rebel Army symbols appear in the game as well, despite in fact that the main enemy in this series is the Axis powers on World War II.
Weapons
There are 36 weapons in the game—10 are available by default, while the rest (bows, machine guns, explosives, etc.) are unlocked by completing missions—which can be equipped on an inventory with six slots. Two of these weapons (a knife and a pistol) are the default weapons, and cannot be removed. Here is a list:
8G-200
ALX W30
Barreti MC21
Big Lester
C25 Marrugo
Commando sword
Cult Commando
Cult Commando w/ silencer
DA Moonshadow
Desert Rat
Desert Rat w/ silencer
Dominator
Dragon Destructor
Flame cocktail
Giant alligator
Glenos-G160
Hand grenade
Kee-Jerk Terminator
Logan-35
MC-5 Defender
MC-5 Defender w/ silencer
MCP-Avenger
Metal Driller
MK-150
Nayberg N830
P25-Maisto
PA-4514
Pequeno-R25
Poncho-25
Scorpion
SE-40 Prowse
Stingfire 220
The Catcher
TI Prescision
Ti-Rex M30
Bosses
All of the Bosses in Commando are based on Metal Slug bosses or characters, or mixed with them.
Features
Each level has its own boss or a mini boss. There are 4 levels (except Commando 3, which has 5 levels), with three difficulty modes: easy, normal and hard. Whenever finishing the last mission in a certain mode, the next difficulty mode is available.
Gallery
External links
Ad blocker interference detected!
Wikia is a free-to-use site that makes money from advertising. We have a modified experience for viewers using ad blockers

Wikia is not accessible if you've made further modifications. Remove the custom ad blocker rule(s) and the page will load as expected.