---
---
Cabrakan MK II
Rarity
Faction
Rebel Army
AP cost
900
810
720
Optimal range
Medium
Traits
Critical
Counter
Unit Summoning
Invulnerability
Playable since
2.14.0
In-Game Description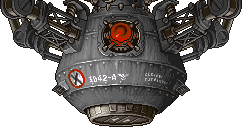 The Cabrakan MK II is a new unit in Metal Slug Attack, first appearing in the Extra Ops "Royal Identity". Parts can be obtained through daily ranking.
The MK II is designed to be more offensive, costing significantly less AP than its original variant. It shoots out more lasers per attack, and has a more damaging special attack (which is also faster, and it starts its barrage on the nearest enemy unit than on the spot). Like the original variant, any attacks that would cause MK II to be knocked back is instead countered by shooting out a MK II pod. Unlike its MK I counterpart, the MK II pods can be destroyed, as they're individual units. The MK I pod is cannot be directly harmed, and is destroyed when the Cabrakan that summoned it is.
While it possess far more damaging attacks, the only drawback of MK II is that the kinetic weakness that MK I had (which is no resistance) is shifted to explosive. As many units usually deal explosive damage, this can cause MK II to be destroyed quickly.
When placed in a deck with its MK II pod, they form the "Earthshaker" team, lowering their AP costs by 10%.
Attacks
Stats
Video
Ad blocker interference detected!
Wikia is a free-to-use site that makes money from advertising. We have a modified experience for viewers using ad blockers

Wikia is not accessible if you've made further modifications. Remove the custom ad blocker rule(s) and the page will load as expected.