---
Cabrakan
Rarity
Faction
Rebel Army
AP cost
2,000
1,800
1,600
Optimal range
Medium
Traits
Buff
Counter
Unit Summoning
Playable since
1.13.0
In-Game Description
"This secret weapon from Morden's Armies brings destruction."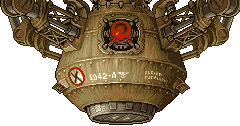 The Cabrakan is a playable unit in Metal Slug Attack, first appearing in the Extra Ops "Boy Memories", where its parts could be obtained by participating in the event. As the Extra Ops has ended, its parts are currently unavailable.
The Cabrakan primarily attacks with the red core on its upper side, where it fires blue laser in a different directions. While its special is firing a powerful energy beam, which can deal devastating damage, especially when on a platinum frame. Like Leona and Rugname X, any attack that would knock it back is instead countered by summoning floating pods to attack enemies.
The Cabrakan is notable in a Rebel Army deck as it provides a speed buff for friendly Rebel Army units once

4 is unlocked. It will greatly help units such as the Big Shiee and Vita, as they are rather slow units.
When placed in a deck with Allen Jr., the Formor and The Keesi III, they form the "Boy Memories" team, lowering their AP costs by 20%.
Attacks
Long Range
Laser - Shoots 8 lasers from the core in a quarter-circle formation.
Special
Gigantic Laser - Moves up and shoots a powerful laser beam to cleanse enemies in a round trip.
Health
Attribute
Resistance
Lvl

Kinetic
None
1
20000
22000
24200
26620
29282
10
30000
33000
36300
39930
43923

Explosive
Increased
20
40000
44000
48400
53240
58564
30
50000
55000
60500
66550
73205

Incendiary
Increased
40
60000
66000
72600
79860
87846
50
70000
77000
84700
93170
102487
* HP might be increased by skills / items or buffs
All-Around Armor

HP will increase by 20% (+1% each level).

---

Equip Anti-Armor

Critical rate for all attacks will become 10% (+0.5% each level).

---

Strengthen Weapons

Strengthen all attack power by 20% (+1% each level).

---

Simultaneous Marching

Ally's Morden Army units movement will increase by 0.10 (+0.02 each level).

---
Ad blocker interference detected!
Wikia is a free-to-use site that makes money from advertising. We have a modified experience for viewers using ad blockers

Wikia is not accessible if you've made further modifications. Remove the custom ad blocker rule(s) and the page will load as expected.